Marcos is one of the many new apprentices each year using an apprenticeship opportunity to change career path – "I was looking for a job opportunity that could give me stability while offering career progression opportunities. At the time, I was working as Prison Officer but through the Police Community Support Officer Apprenticeship with Sussex Police, I saw more opportunities for growth and development and I immediately felt this could be something I would really benefit from". Across England in 2019-20, over 320,000 people began an apprenticeship, within around one in every two new starts being age 25 or over.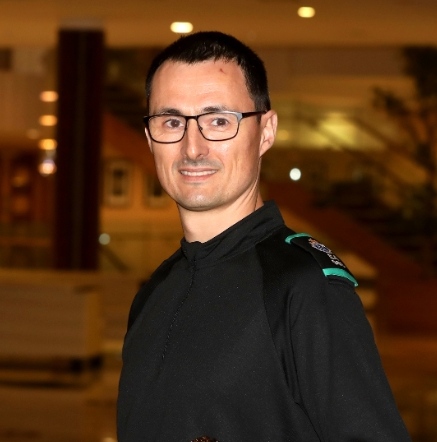 Apprenticeships provide a fantastic opportunity to earn as you learn. Apprenticeships are typically tailored to a specific job role, with training covering over 1,500 job roles available, but common to all apprenticeships, the on and off-the-job training aims to develop a set of knowledge, skills and behaviours, some of which are job-specific and some of which are very transferable afterwards into other job types. Marcos says, "I spent the last two years in a Neighbourhood Policing Team with Sussex Police and I have learnt so much. My line managers and colleagues have been very supportive throughout the apprenticeship, and since this is a learn-on-the-job type role, having the support of the whole team is very reassuring".
Policing & Law Enforcement Qualifications
We have a range SFJ Awards approved Policing and Law Enforcement qualifications.
Explore Qualifications
Those joining apprenticeship programmes are typically looking for a new and rewarding challenge. At Sussex Police, Police Community Support Officers help tackle lots of challenges within their local communities – they successfully address anti-social behaviour, collect witness statements, provide reassurance and identify and protect the most vulnerable members of society. These are naturally exciting but challenging roles, and a vital part of keeping communities safe. Combining such important tasks with learning requires determination and commitment.
Marcos adds, "Apprenticeships are very achievable and really rewarding but you do need to have good organisation skills to keep on top of demands like meeting deadlines and collating evidence portfolio for your assessment. Whilst there are protected learning days for self-study, I also sometimes wanted to go above and beyond these to make the most of the learning opportunity".
Apprenticeship End-Point Assessment
At the end of an apprenticeship in England, apprentices undertake an End-Point Assessment to qualify – "For my apprenticeship, the End-Point Assessment involves submitting a problem profile for an issue you have identified within your community. You explain how you took ownership of it and what you did to resolve it or mitigate it. I prepared a short presentation and following this, there was a professional discussion to give me the chance to demonstrate my learning in more detail" says Marcos. These are typical components of an End-Point Assessment to test the knowledge, skills and behaviours you have developed during the past 12-24 months, with organisations like SFJ Awards on hand to guide employers of apprentices in what is required to be prepared.
Every year in England, around 150,000 apprentices qualify across a huge variety of fields, from health, public services and care through to business administration and law. Marcos adds, "There is no reason to be anxious about qualifying. By the time you reach your End-Point Assessment, no one else knows the problem profile better than you. Practising my presentation gave me all the confidence I needed to pass the assessment – and with a double distinction despite my dyslexia and English being my second language!"
End-Point Assessment FAQs
Find out more about End-Point Assessment with our FAQs.
Explore FAQs
Career Progression and Opportunities
Aside from offering excellent training and development into a specific role, apprenticeships can lead to numerous additional career progression opportunities, something that appealed to Marcos right from the beginning – "The Police Community Support Officer role is a perfect stepping stone if you want to have a career in policing. Achieving my apprenticeship gave me the confidence to be able to achieve whatever I intended. I applied to a fast-track detective program with Sussex Police and I am currently in my fourth week of training!"
---