Meet Pagan Laight, a Police Controller and former Apprentice at Thames Valley Police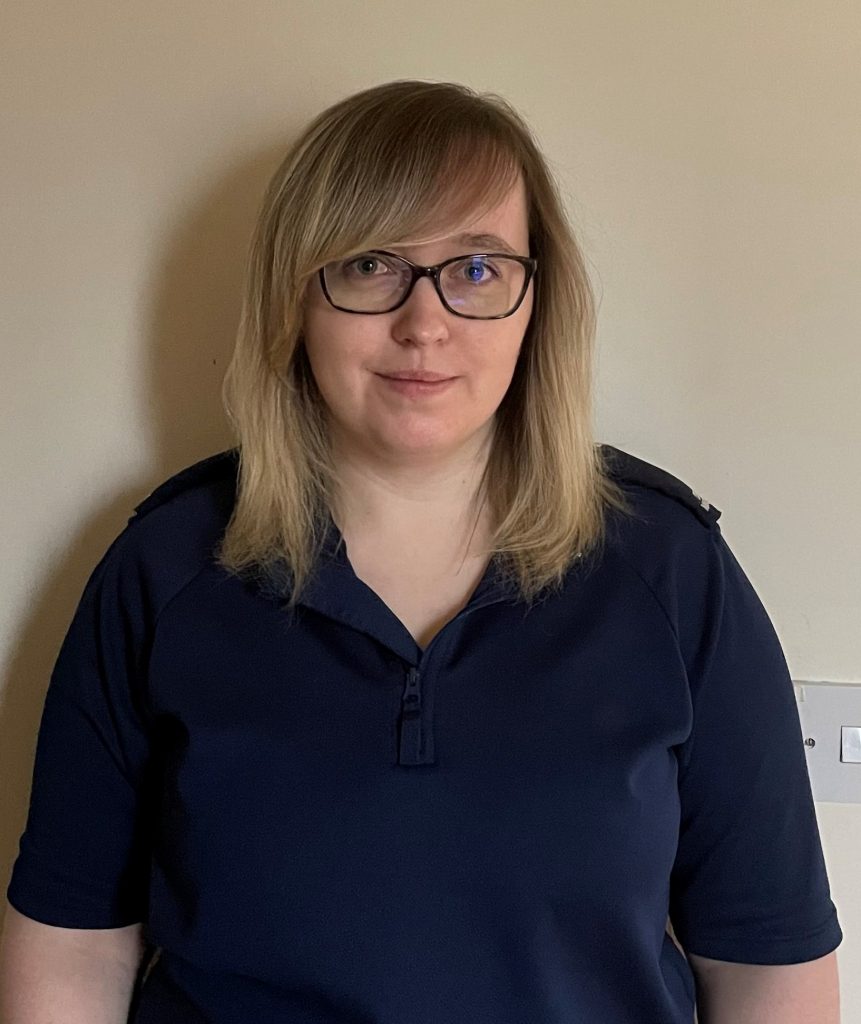 Pagan Laight is a Police Controller for Thames Valley Police (TVP), one of the largest constabularies in England. Having completed the two-year Emergency Services Contract Handler Apprenticeship, proudly achieving distinction, we wanted to hear from Pagan to share her story and how she got involved in her Police Apprenticeship, starting a budding career in the service.
"I recently completed the Level 3 Emergency Services Contact Handler qualification, meaning I am now equipped to deal with emergency 999, and non-emergency 101, calls accordingly. Furthermore, my apprenticeship has given me transferable operational knowledge should I wish to apply this to other emergency contact-handling environments, such as the ambulance or fire service.
"Prior to my current role, I worked in HM Prison Service, initially in their control room. My daily role consisted of taking calls, monitoring CCTV and managing their radio channels as a radio operator. In addition, I led workshops directly tailored to assisting offenders through the rehabilitation process, promoting positive change to help reduce reoffending.
"Through engaging with offenders, learning about their backgrounds and the crimes they had committed, I was compelled to wanting to learn more about the stages that proceeded the conviction stage. With that, I researched my local police force to find what development opportunities were available to me with my qualifications and professional experience.
"Upon scanning the Thames Valley career's website, I came across the Trainee Police Controller apprenticeship – a two-year apprenticeship allowing one to progress from an emergency call handler to a substantive police controller. Initially hesitant, I was informed my age and qualifications would not hinder my eligibility of pursuing the apprenticeship, so I applied through the Thames Valley Police website."
We asked Pagan what it was like working for Thames Valley Police as an Apprentice, and now in her qualified role. She added: "I love working here and take pride in my role – it feels like one big family! No matter the concern or challenge, there is always someone to support you. Career-wise, there is ample opportunity to progress, whether that be in the control room or elsewhere within the police force, and your supervisors will always assist you in maximising your potential. Due to the emotive topics, we naturally deal with, staff welfare is always a priority; we are continually looking out for one another. There are internal and external support networks to support you for a whole host of matters, both work and non-work related."
In her off-the-job learning, Pagan has spent time reviewing relevant content about here role, including learning from video about situations such as Honour Based Abuse, Domestic Violence and knife-related crime, she commented "These topics are evolving in both their complexity and priority for the force. This has shed light on the concerns our victims face and seeing it from their perspective has developed my competency when taking calls of this nature."
Understanding what the role is like as an apprentice, we wanted to know what was most challenging from Pagan, and what she enjoyed the most about her apprenticeship: "The most challenging part of my apprenticeship has been the simultaneous training and learning in a live environment – every day is very much a school day. I was not the most confident person before this job and it has been hard to believe in myself and my knowledge. The learning curve to becoming a competent Police Controller is steep. However, the support networks and learning structures put in place ensure I am never left feeling as if I cannot do it.
"On the other hand, the best part of my role is seeing how much I have accomplished in the last 2 ½ years I have been with Thames Valley Police. From initially not bearing much confidence, I have progressed to becoming a competent call handler and radio operator, and I am now passing my knowledge to new starters as a tutor. I passed my apprenticeship with a Distinction grade and I am now my team's champion for the apprenticeship process.
"I assist in any way possible, managing my mentee's expectations on what is to be expected – both throughout their apprenticeship and on End-Point Assessment day – in addition to being there for them as an additional layer of support. Having been the new starter once, I understand it can be very daunting. However, having someone you know you can turn to helps relieve a lot of that pressure."
Moving forward in her career, Pagan hopes to progress into further roles within Contact Management, expanding her knowledge and experience with different responsibilities.
"I am looking at working towards becoming a supervisor – a role where I can manage my own team to maximise their potential and help achieve their career ambitions and I also have a passion for Forensic Science, so I am looking into developing my knowledge, so I am able to progress into this area."
Shining a light on the exciting careers available via Apprenticeships is one of our core aims here at SFJ Awards, so we asked Pagan what advice she would give to someone considering becoming an apprentice in Policing: "My best advice is to never give up! The learning curve within the live environment can feel daunting and overwhelming. However, the mentor-led tutoring, the ongoing personal development plans, the one-to-one meetings with your supervisor and the ongoing support from everyone around you will be everything you need to become successful.
"My other piece of advice: believe in yourself – have the confidence to apply your training and make decisions, and challenge where necessary. Whether call taking or on radio, dealing with a job will test your training and knowledge. However, you know what to do, you know what advice to pass and you how the job needs to be dealt with. Having the confidence to professionally apply your knowledge will ensure our victims are continually receiving the help they need and deserve."
Meet Dominika Omorcyzk, Trainee Police Controller at Thames Valley Police
We recently heard from Dominika, who is undertaking her apprenticeship as a Trainee Police Controller at Thames Valley Police (TVP). Prior to this, Dominika was working as a Customer Service Officer for a Chemical Manufacturing company and was unfortunately made redundant.
"I was looking for an opportunity to develop my career and that's when I saw the role for Trainee Police Controller advertised by Thames Valley Police, on their website. I applied to the role as I had been interested in some time in working for TVP and had been interested in becoming a Special Constable.
"Thames Valley Police, as an employer are fair and caring, and offer great prospects for future development. In addition to on-the-job training provided by TVP, I also completed my English GCSE, gained technical knowledge of computer systems used in the control room and of the various types of incidents we deal with, in my off-the-job learning."
When asked what the hardest part of the role is, Dominika added: "Dealing with my own emotions and emotions of members of the public who contact us at the worst time in their lives is one of the hardest parts of the role, working in Policing. On the flip side, some of the best parts are that not one day is the same, and I am always learning new things, every day. My ambitions for the future are to become a better radio operator and develop my skills, as this is the newest part of my role."
We asked Dominika for her hints and tips when speaking to anyone considering an apprenticeship in this role, she added: "Just don't be afraid to ask for help, and make sure you take lots of notes!"
Here at SFJ Awards, we are looking forward to seeing what Pagan and Dominika achieve next and are delighted to share their stories as Apprentice Champions in Policing. Follow @SFJAwards on Twitter for more live insights during National Apprenticeship Week #NAW2021