Enhancing jobs by transforming your people
With the changing tides of policy, tightened budgets, and customer demand, workforce planning can prove to be a continuous struggle. We can help, with over 15 years' experience across the public sector, we can act as your workforce sector experts.
Our sister organisation, Skills for Justice, supports Centres and Employers who want to join a growing network of like-minded organisations to enhance their workforce, through dedicated leadership and OD, workforce consultancy, organisational diagnostics (Ambit) and much more, delivered by the Justice Membership team. An Organisational Membership allows employers to select the best options to suit your workforce goals, giving you full access to academically trained team, skilled in gathering vital insights to inform your future work programmes.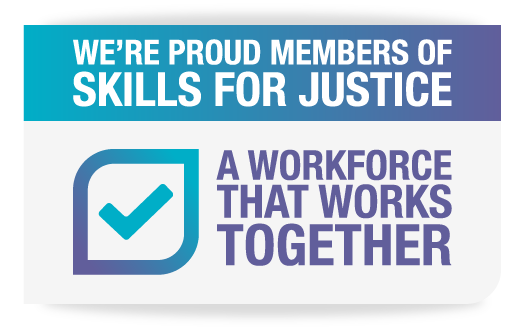 Transform your organisation by working alongside Skills for Justice's experienced team to achieve your workforce development objectives
"Skills for Justice is extremely knowledgeable and well-informed on national developments and current direction. They are very responsive when we need guidance or support. We feel valued as a member with regular and worthwhile communication and visits." – David Shortt, Watch Commander, Northern Ireland Fire and Rescue Service
When you become a Skills for Justice Member, your dedicated Account Manager will work with you to guarantee you make the most of your membership and ensure your organisation has a workforce prepared for both today, and the future.
If you're an organisation that values continual learning and workforce development. Become a member and be connected with the right people, products, and services tailored to suit your organisational needs and enabling you to deliver best-in-class solutions to your workforce challenges. Find out more about the Skills for Justice Membership, or speak to one of the Skills for Justice team today, so start your journey.