Stansted Airport Fire and Rescue Service has been the first Airport in the UK to undertake the National Level 3 Operational Firefighter Apprenticeship. The AFRS took on four apprentices in 2019 and began a 2-year training program designed to complete not only the apprenticeship, but also qualify them all as aviation firefighters at the same time. Hannah Inggs, Finn Edwards, Charlie Fry and Amber Popham joined the team without any Fire Service experience and began the intensive training course at the start of 2019.
Once the team had completed the structural firefighting course, the next step was to include aviation firefighting, so again after basic on-site training, the team went to the International Fire Training College in Teesside for 2 weeks of specific aircraft firefighting procedures. Once all initial training had been completed the team joined the Duty Watches in the 24 x 7 operation at the AFRS. The ongoing training for the Level 3 apprenticeship was completed on the Fire Station for the 2 years, with our Fire team delivering the training, combined with support from the Capita talent coaches delivering teaching and learning at each stage.
At the End-Point Assessment for the apprenticeship, the team were assessed independently, in theory, practical and professional discussion, alongside producing evidence of training for the last 2 years. All four passed with flying colours, with Hannah again coming top with an overall distinction! The team have now completed the apprenticeship and joined the Airport as fully qualified Aviation Firefighters.
Due to the success of the AFRS Apprentice program, another 4 recruits have just joined the team and are now at the Fire College beginning their journey on the Capita Firefighter Apprenticeship Programme. Good luck to them!
"We're delighted to have worked with Stansted Airport Fire and Rescue Service and to have delivered the National Level 3 Operational Firefighter Apprenticeship to the first apprentices from a UK airport fire service. Capita's Firefighter Apprenticeships programme, utilising the unique facilities at the Fire Service College, provides a unique opportunity to develop the vital skills and capabilities required for these vital roles. Many congratulations to all 4 learners on successfully completing their programmes, and welcome to the new cohort."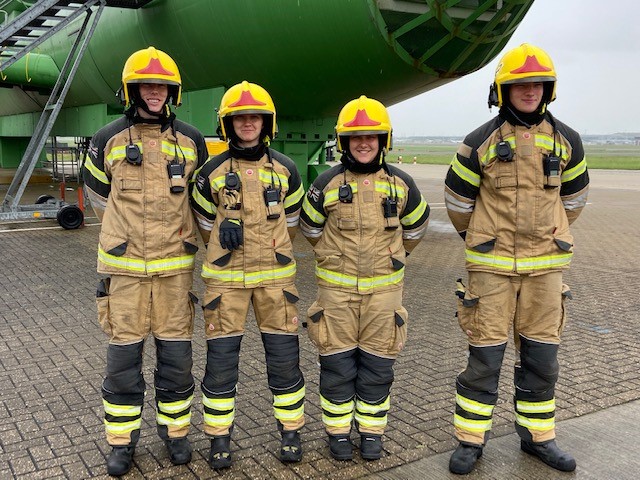 Kit Salt is Head of End Point Assessment at SFJ Awards, the organisation responsible for assessing operational firefighter apprentices, including those stationed at Stansted Airport. Responding to the news Kit comments:
"Congratulations to Stansted Airport, Capita and of course the apprentices on their fantastic achievement.
"We are delighted to have played our part as the End-Point Assessment Organisation for the apprentices and wish them all the best for their future careers."