Chelsea Littleton-Harper joined the SFJ Awards team in 2020, with previous experience working with Industry Qualifications (IQ).
Now, in her now role as the SFJ Awards Digital Resource & Engagement Officer, we've been finding out a bit more about Chelsea and how she contributes to supporting SFJ Awards Approved Centres and Customers to develop skills, improve flexibility and enhance jobs.
"My main role is to develop and implement innovative assets and digital resources to provide an improved user experience to our Approved Centres. Whilst my main focus is customer experience, I also work hand in hand with the Contracts & Products team, supporting with the development and roll-out of new qualifications, resources and much more.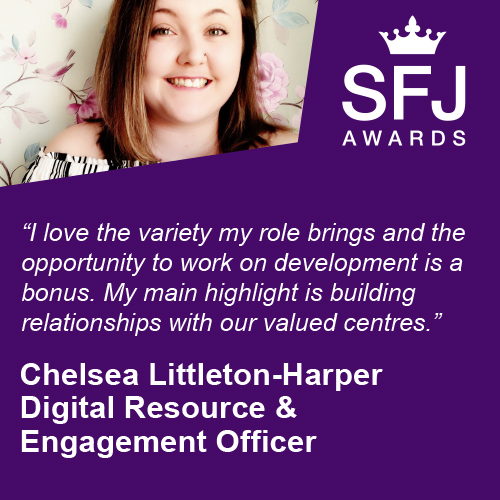 "I support SFJ Awards Approved Centres and our Customers by assisting with developmental needs or requirements as well as general enquiries. I also provide one to one training sessions with centres and provide regular email updates and communications to keep centres up to date on developments and more."
Chelsea has a wealth of experience in learning, development and education, which she brings to her role when understanding and supporting Centre and Learner needs:
"I started working within the education sector in 2016 as an Apprentice after working as a housekeeper after leaving school. I was intrigued by the sector and felt I had more to give. I wanted to put my brain and initiative to work. I've slowly worked my way up through the ranks from Apprentice to Administrator, to Senior Administrator, to my current role.
"My role at SFJ Awards involves a lot of collaboration, so my days are filled with meetings, internal and external, and project planning – coming up with new and innovative ways to adapt our services in the ever changing climate. I work collaboratively with the product development team assisting in the development of qualifications and resources, providing support both internally and externally."
We asked Chelsea what she loves most about her role in the team at SFJ Awards, she added:
"I love the variety my role brings and the opportunity to put my brain in to action. I'm quite a creative person and being given the freedom to work on developments is a bonus. My main highlight is building relationships with our centres. Starting out within a customer service role, I've never lost that edge and no matter what role I am in, I'll always see customer service as the most important aspect. I pride myself on making sure every customer knows they are important, always delivering a personable experience."
We're excited to see what Chelsea continues with here at SFJ Awards:
"I'm very busy with my new role and am working hard to bring new and exciting developments to our centres. This includes the launch and rollout of Online Proctored Assessments and the development of resources for the new SIA Licence-Linked Qualifications which have recently been launched in April 2021. I'm also working on a "top-secret" project that involves a variety of online bitesized learning which I think our customers are going to love!"
Want to find out more about how we can support your learning and development needs?
Get in touch with Chelsea or another member of the SFJ Awards team.
Connect with Chelsea on LinkedIn.
Follow SFJ Awards on Twitter for regular updates.