Meet Patricia Montoya, a Police Controller Trainee from Thames Valley Police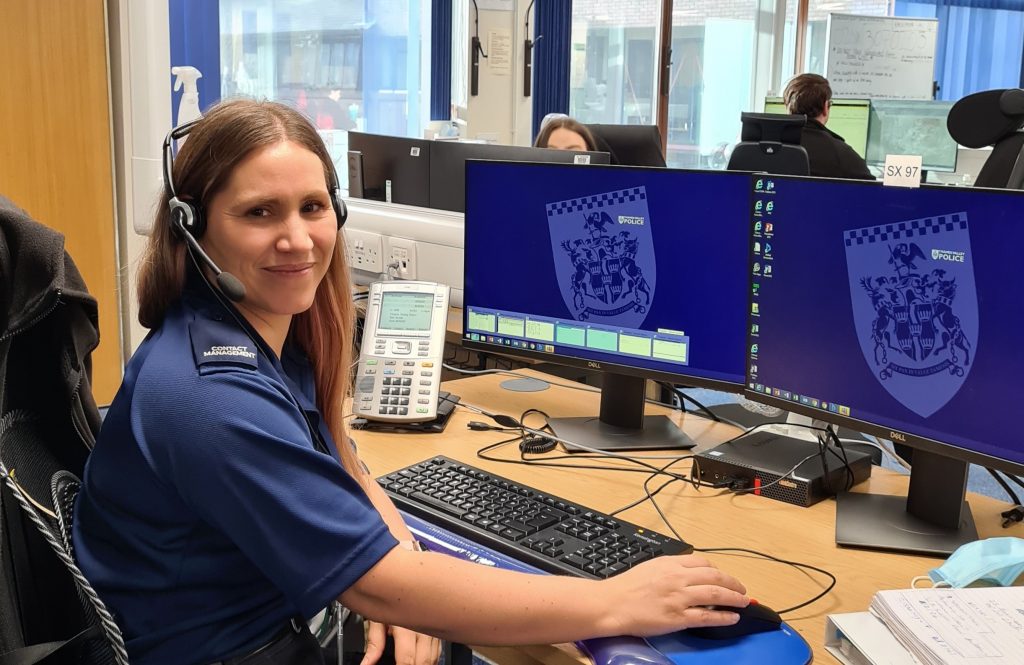 We invited Patricia from Thames Valley Police (TVP) to tell her story about her apprenticeship within the Police Service, in Apprentice Contact Handling, and why it is so important to champion apprentices and the workforce of tomorrow.
"Before applying for my apprenticeship, I had worked for Children Social Care for about 9 years and then worked part-time supporting vulnerable adults. My personal circumstances changed, and I wanted to return to work full time and fancied a change, so when I saw the position advertised online, I decided to take a leap and apply. The process is thorough; an in-depth application form, an assessment day that involves typing and information gathering, an observations day followed by an interview and once all of that is done, vetting and a medical assessment. All so worth it though. I think I applied in October and finally started my training in February. The apprenticeship process was highlighted from day one and I feel I have so much support around me to get the best outcome. My supervisor, as well as our apprenticeship champion, are always there for support and guidance.
"I work as part of Contact Management for Thames Valley Police. We are a diverse group of people from all walks of life, which I love. I have been here for just under a year now, and I have found that there are loads of opportunities to get involved in different things. The work itself is not always easy, but I found most supervisors to be really caring and my colleagues are just the best. You really get a sense of family when at work and people really look out for each other.
"We also have so many training packages that we can access to widen our knowledge. I have also been impressed at the commitment from "higher up" to improve, for example by creating an equality and inclusion focus group (which I volunteered to be a part of), seminars on well-being and Mental Health and looking at victim satisfaction."
Off-the-job learning is an important aspect of apprenticeships, and something we want to highlight the value it adds to apprentices learning and their competencies which are evident when they complete their End-Point Assessment. Patricia added:
"Since joining the force I have grabbed every opportunity I can to learn and develop further. I volunteered to be part of an Equality and Inclusion focus group that is held between Thames Valley and Hampshire Police staff and Officers, where I have the opportunity to become an ambassador for colleagues to ensure that policies and procedures consider the different needs of their staff/officers, which is something I am very passionate about.
"I have also taken part on a number of sleep seminars (which were arranged by the force) and have been reading books on how to best manage shift work, which I have shared with some colleagues. I am also considering becoming a Blue Light Champion, so that I can support other colleagues that may be struggling with their mental health.
"The best part of my role at TVP, is that I think you can't underestimate the value of working with amazing people. I am in awe of my colleagues daily. I of course love speaking to members of the public and knowing that I can be there at some of the hardest times of their lives. Working for the police means that the type of calls we get a wide and varied, which provides great variety and really widens our skills and knowledge."
When asked what she might do next, Patricia explained that she will be doing Radio Training to become a qualified Police Controller. She is keen to stay in Radio for a while, but there are also many options to move into once she is ready.
"I'm quite interested in being involved in training new apprentices, or getting involved in projects around equality, diversity, and inclusion as well."
Sharing hints and tips to anyone considering an apprenticeship in Policing, Patricia suggested: "I would say 'go for it'. The fact that we can do this job, and get a qualification at the end is amazing, so I would advise anyone to just grab the opportunity. The other thing I would say is to make your health / wellbeing and sleep a priority. The reality is that we will all get 'a bad call' and we will all bare the effects of shift work, but there are things you can do to look after yourself, so that we can be our best when people need us the most."
Meet Kirsty Long, a Police Radio Controller from Thames Valley Police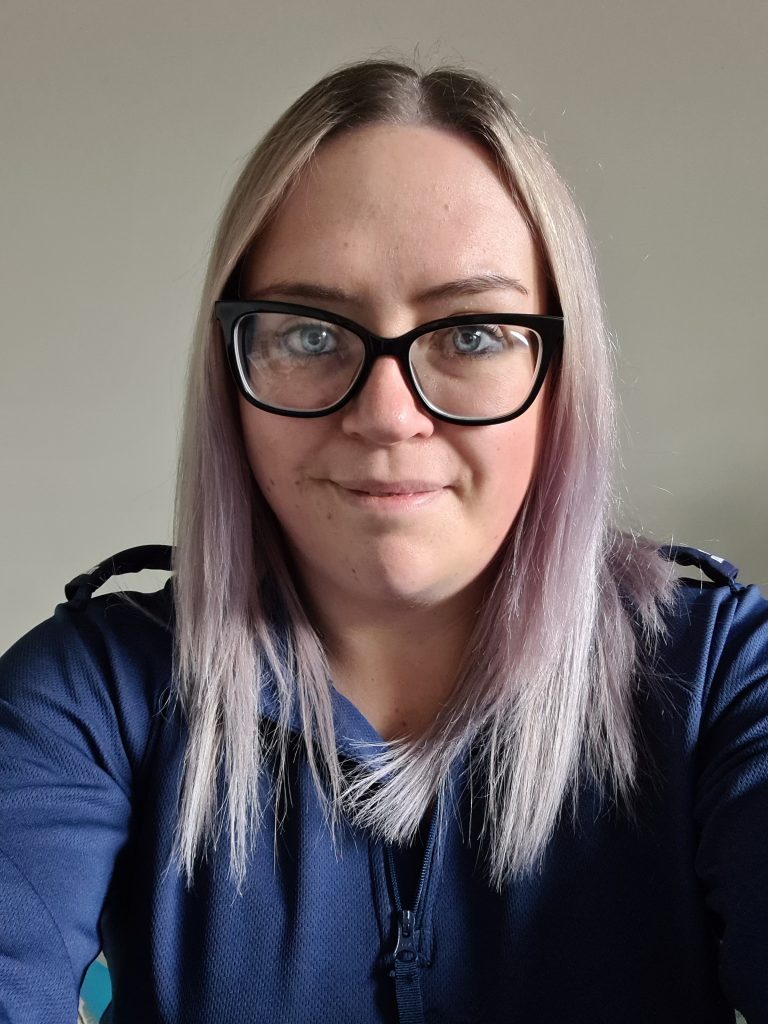 Kirsty has recently completed the Level 3 Emergency Service Contact Handling apprenticeship, with her employer Thames Valley Police (TVP). As part of the SFJ Awards' initiative, we're sharing insights about what it means to be an apprentice in Policing and share Kirsty's journey.
"I worked in Police Custody in a different force before joining Thames Valley Police. As part of joining Contact Management, I completed the Apprenticeship, which I feel has given me the tools to complete the role.
"I really enjoy working for Thames Valley Police, and I really enjoy the job that I do. In my off-the-job training, I was able to read through and learn the related policies to the calls we get. I was also able to expand my knowledge base further, which I feel helped me gain a distinction overall.
"I have really supportive colleagues that have helped me work my way through the course. I think for me, it was making sure I completed everything to a standard I am happy with as I like to take pride in my work and try and get the highest grade I can do.
"The best part of the job is the support from colleagues I received whilst completing the apprenticeship and whilst on the job. It can be a highly emotive role to be working in on some days and having your colleagues there to support you and bring you back up is amazing."
We asked Kirsty what she might do next, and she advised that she has recently taken on an Acting Supervisor role.
"I hope to continue with this and hopefully progress into a full-time supervisor role. I am also an Apprenticeship Peer Supporter, so I support newer colleagues in completing their apprenticeships."
Shining a light on the great career opportunities that are available via apprenticeships, we asked Kirsty what her top tips are for anyone considering the career path: "Go for it, I found it has helped me conduct the role to its full extent. I would suggest seeking support from your colleagues at every opportunity you can get, take the knowledge from the experienced staff too!"
Here at SFJ Awards, we have been delighted to share a range of Apprentice stories from Policing, Fire & Rescue and Justice to shine a light on the exciting career paths available. Sign up to our newsletter to receive more regular updates and insights.
#NAW2021