Deborah joined SFJ Awards in August 2020 as a Product Development Officer. Since then, Deborah's clear commitment to supporting learners and understanding the qualification needs of the sector have led her to the natural next step of becoming our Qualifications and Assessments Product Manager.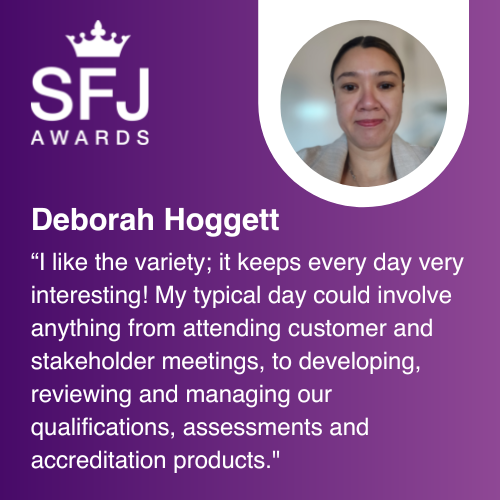 Regarding her new role, Deborah says:
"I'm really enjoying my role. The product team has grown so much over the last two years.  We develop qualifications for the key sectors we work in and we are also responsible for managing our custom certification service, whereby we work with our centres to accredit their learning programmes. We also develop all the End-Point Assessments too – everything from the guides to the actual assessments themselves."
Deborah now manages the product development team at SFJ Awards, which is made up of four Product Development Officers. The purpose of this team is to manage the entire lifecycle of our qualifications, End-Point Assessments and custom certification service programmes.
When asked what her typical day looks like, Deborah says every day is different:
"I like the variety; it keeps every day very interesting! My typical day could involve anything from attending customer and stakeholder meetings, to developing, reviewing and managing our qualifications, assessments and accreditation products to ensure they are fit for purpose, meet our customers' needs and are compliant with regulatory requirements.
"I work closely with stakeholders to pinpoint any gaps they are experiencing and make sure we can cater closely to their needs. It's important for me to work proactively with sector stakeholders, such as the police and fire and rescue services, and asking them about their needs in terms of qualifications."
"It's important that we also understand what's happening within the education landscape as there are always lots of changes. It's really important for us to make sure we are up to date with any sector, legislative and regulatory changes.
We asked Deborah what she loves most about her role:
"The variety. One day you can be talking to a centre about developing a bespoke, accredited programme, and the next day you can be talking to a group of fire and rescue services working together on what they want from a qualification. Meanwhile, needing to keep up to date on what's happening in the landscape of qualification development.
"I also have a great team, who are absolutely fantastic."
Deborah is looking forward to getting stuck into some big projects that the product development team have coming up, as well as new people joining their team to share the workload:
"We've grown so much as a team over the last couple of years and it's going to be great working with the team, sharing ideas and developing products which really meet our customer needs.
"I'm also looking forward to working on a number of new and exciting qualifications we are developing, as well as the new standards that we are working on. We've got some really great and interesting projects coming up that the team and I are looking forward to getting stuck into."