Last year, we launched the first annual customer survey, asking SFJ Awards Centres and customers to take part and tell us how we could actively improve our solutions and resources. Thanks to everyone who took part, we launched a new project to deliver our Insights Webinar Series, providing valuable industry-leading knowledge and support for qualifications, certification and end-point assessment.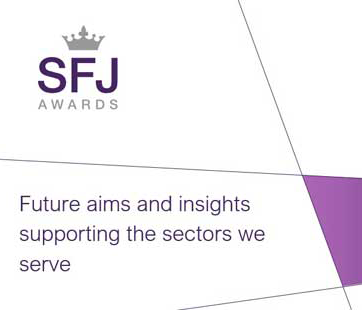 Our annual report, which followed after the survey, outlined future aims and insights to support the sectors we serve, across Policing, Fire & Rescue, Security, Public Safety, and many more. Thanks to the feedback, we've continually adapted our services both in response to customer needs and the ongoing pandemic affecting learning & development across the UK. Our website now hosts a range of free resources, on-demand webinars, case studies, downloads, and the latest news right here. Visitors and customers can also now sign-up to our newsletter for exclusive updates.
One year on, we're asking for your feedback again, so we can continually adapt and improve the support we provide, access to resources, and make sure everything available on sfjawards.com is relevant for centres, learners and employers to deliver on their ambitions.
Launching today, we're inviting all visitors to take part in the 2021 '10-Question Survey' so we can learn what matters to you most, and how we can best support you.
Closing on the 6th August 2021, the survey will be a chance for SFJ Awards Approved Centres and EPA Customers to provide feedback on what is working well, what could work better, and how we can best deliver meaningful learning and development solutions that will improve skills, provide flexibility and enhance jobs.
Provide your feedback & recommendations